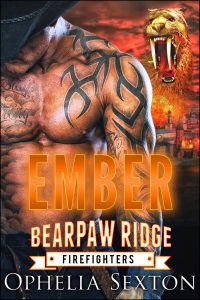 Good news for everyone who's been waiting for the next exciting volume in the popular Bearpaw Ridge Firefighters series! EMBER is in the final stages of production, and we're so excited! Jacqueline Sweet Design has created another gorgeous cover for us, and Ophelia Sexton is currently completing her rewrites. The book is scheduled to head to our editor later this week, and will be released soon!
Originally planned as a novella, Philtata Press author Ophelia Sexton reports that this story quickly blossomed into a full-length novel.
"I loved writing about Daniel and Margaret, and I hope my readers will find that the long wait was worthwhile," she says.
About the Book
Bear shifter Margaret Einarsson Swanson never thought that love would find her again after her mate Ryan was killed. The curvy widow has spent years raising her children and running the Grizzly Creek Ranch's bed-and-breakfast operation.
Then professional chef Daniel Langlais shows up at the ranch. He's wounded, on the run with his young nephew, and big trouble is hot on his heels. Margaret knows that falling for this sexy, silver-haired sabertooth shifter will make all hell break loose within the Swanson clan.
But even knowing all that, her bear can't resist his scent, the mouthwatering meals he dishes up for her, or his smooth Louisiana drawl.
Sometimes, grabbing the chance for happiness means taking big risks. Is Margaret willing to defy her clan for a second chance at love with a mate who seems so wrong but feels so right?
This novel will be available exclusively from Amazon, and available to read for free through the Kindle Unlimited program. We'll update this post with a link to the book's catalog page once it's available.